Bareroot plants & trees a step by step planting guide with Hedgehogs Nursery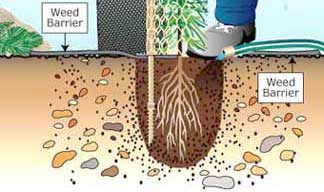 Bareroot Plants & Trees – a planting guide
Selection, quality control, despatch transportation & on site arrival.
Bareroot plants and trees are delivered during the months November to April, with little or no soil on the roots, during the dormant stages of the plant.
When orders are received for bareroot plants, they are then lifted from the fields, carefully graded and then moved to the packing area where they are again checked for suitability.
The plants or trees are then packed carefully and despatched via next day carrier service.
When the plants arrive, remove all packing materials, and do not allow the roots to dry out. You may need to soak the roots in water, but only if the roots are dry.
Pre planting care & ground preparation.
It is best to plant bareroot plants and trees immediately in order to keep the fragile roots from drying out.
If you cannot plant immediately due to weather or soil conditions, store the trees or shrubs in a cool place and keep the roots moist.
Dig a hole wider than seems necessary so the roots can spread without crowding.
Remove any grass within a three foot circular area.
To aid root growth, turn soil in an area up to three feet in diameter.
Planting placement and care.
The sides and bottom of each pit should be loosened with a fork to break up any existing compaction.
The roots should then be spread evenly on the soil at the bottom of the hole.
Before returning the backfill ensure the plant is held at a depth so that the point between the roots and the stem (the nursery mark)
is level with the surrounding surface of the hole.
If the plant or tree appears to be too far down backfill should be added to raise the bottom surface.
Planting too shallow exposes roots which will dry out, planting too deeply can smother and kill the plant.
When returning the backfill material over the roots shake the plant lightly to allow the backfill to mix freely with the roots.
The backfill should then be returned to the pit a little at a time and each layer gently firmed until the planting area is level with the surrounding surface.
The soil around the plant must be firmed to eliminate any air pockets or uneven compaction and to keep the plant stable.
The plants or trees will need frequent and large amounts of water until it is established.
Bareroot plants are our speciality at scotplantsdirect.co.uk.
We have a large variety of plants and trees available, so please do take the time to look around or pop through and visit us you are most welcome.
Scot Plants Direct at Hedgehogs Nursery, Crompton Road, Southfield Industrial Estate, Glenrothes, Fife KY6 2SF