Raspberry Planting Guide SPD Hedgehogs Nursery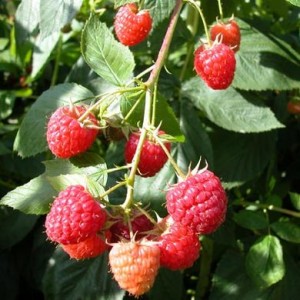 Raspberry Planting Guide
Raspberries grow best in cool climates, and tolerate a wide range of soil types from sandy loam to clay.  The most important requirement is that the soil be deep so that the roots are not restricted.
Raspberries should not be planted in an area following the cultivation of tomatoes, eggplant or potatoes.  Diseases that affect these plants may remain in the soil and damage the berries. Plants can be grown in hills or in rows.  Red raspberry plants should be set 2 to 3 feet apart if planted in rows.  Before planting, cut the tops of the plants back to six inches.  Set the plants into the hole so they are 2 to 3 inches deeper than they were in the nursery.  Water after transplanting. Do not forget to support the growing canes as best as you can and one of the best solutions is bamboo canes.
Recommended Fertilisers
To get maximum yields from raspberries, apply fertiliser every year in the early spring just as new growth begins.
Manure works well with raspberries, as does a good Ericaceous Plant Food.  Apply this as a top dressing around your planted raspberry at the rate of 8 ounces per plant, or spread in a wide band no closer than about 6 inches from the crown around each hill. Check out our fertiliser range or ask us for a recommendation.
Raspberries make fantastic summer food and are ideal for eating with cream, or baked in a pie or upside-down cake…
If you would like to buy a raspberry plant of your own, so that you can benefit from fresh raspberries all through the summer, take a look we have a variety of plants to choose from.
Growing your own fruit of any kind is always a rewarding (and delicious) pastime, be it apples, blackberries, blueberries, or pears etc.. You have the advantage of knowing that what you are eating is fresh, organic (if you use organic fertilizer) and healthy.
What easier way is there to get your 5 a day than to simply pick it from the tree!
Scot Plants Direct at Hedgehogs Nursery, Crompton Road, Southfield Industrial Estate, Glenrothes, Fife KY6 2SF